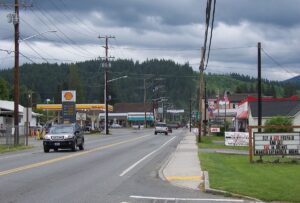 Granite Falls Washington is located about 40 miles from downtown Seattle in Snohomish County. It's nestled between the Pilchuck and Stillaguamish rivers in the western foothills of the cascade mountain range. It's northeast of Lake Stevens and Marysville and is named for the waterfall on the river located north of downtown. It's also accessible via the Mountain Loop Highway, some of the most beautiful and scenic drives in the area. It's home to about 3500 residents.
This small, bedroom community is really coming into its own. The population is growing slowly but new businesses and business opportunities are popping up all the time. Granite is really finding its way and with the new coffee shops, restaurants, markets, and unique eateries, it is not only becoming popular to locals but a destination point too many surrounding communities such as those in Marysville, Lake Stevens, Arlington, and Everett.
Granite Falls is a perfect rural living environment for those that prefer living outside of the growing suburban areas in Snohomish County. Although there are only about 3500 people in town, it has an estimated population of over 10,000 in the immediate outlying area. It's considered the "Gateway to the Mountain Loop" with hundreds of outdoor activities like fishing, hiking, camping, skiing, and flooding. It would make an ideal spot for a ski or snowboard shop or any outdoor recreational facility.
There are also great opportunities for rental properties, commercial business options, office space, or commercial possibilities. I'd love to talk to you about the option of constructing or carrying on business in Granite Falls. Start your search online here with the current and active commercial real estate listings in Granite Falls. For a more detailed list or to talk over options about commercial buying in Granite Falls give me a call today.
Search Other Communities
Image By ECTran71 – Own work, CC0, https://commons.wikimedia.org/w/index.php?curid=15516176
Just Listed: Granite Falls Commercial Real Estate
Sorry we are experiencing system issues. Please try again.