5 Great Ways to Upgrade Your Home Without Blowing the Budget – Since the beginning of the pandemic there have been more and more homeowners interested in turning their house into a dream home or just making a few small updates to bring it into current times. With the increase in prices of several home renovation supplies this undertaking can be a lot easier said than done right now.
Completing a remodeling or improvement project on your home can add a lot of value to your house and make it more attractive should you decide to sell in the future. Here are some things you can do that will add value to and upgrade your home while not blowing your budget.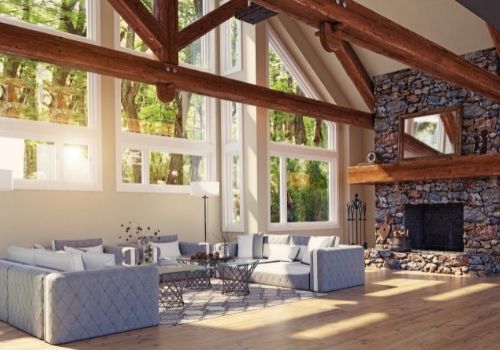 Don't overlook the power of a kitchen remodel
Even just a small kitchen upgrade can be perceived as modern or updated. Making just a small and simple adjustment of a stainless steel or quartz countertop or bringing in shaker cabinet doors can boost the value of a home by 3 to 7%. Just make sure that when you are hiring a professional you are finding one you love that will be reliable. Ask to look at previous jobs they have just completed and go over the contract in detail. The average cost of a kitchen remodel is around $23,000, but smaller revamps can instantly upgrade and update your kitchen into a new space. You could do something as simple as change out the countertops or add new flooring or just a brand new backsplash. These can be done for a lot less money.
Adding outdoor usable space
Since so many have recently spent so much time stuck inside their homes, more and more buyers are looking for usable private outdoor space to enjoy some fresh air on their own terms. Creating an outdoor living space or constructing a deck where there wasn't one will add a lot of value to a home. You can keep things within budget by shooting for under 500 ft.² which is plenty of space to house a grill and some outdoor furniture.
Making the master bathroom feel luxurious
There is no question that behind the kitchen, the master bathroom is what many people look at when purchasing a home along with the master suite. It is always a good investment to update your master bathroom and make it feel spa like and luxurious. Try to keep with classic designs that are up to date that will not be out of style in a few years. This will give you the biggest bang for your investment dollars.
Give the outside a new coat of paint
Giving me outside of your home a fresh new look can make it feel like a brand new home and it doesn't cost too much when you compare it to the expenses of other remodeling projects. Exterior paints do cost more than their interior paint relatives, but not much. The average cost of painting the exterior of the home is around $2809.
Save on new flooring
Installing new up-to-date flooring can be a great investment in your home. The most popular and long lasting of flooring is of course hardwood, but there are some great classic laminate products on the market that are very durable and bring a lux feel to a room.
No matter what your hopes or plans are for upgrading or remodeling your home there is always an option to make it look great while saving a little bit of money.
For more information on real estate in Snohomish County please contact us anytime.
More Information for Local Residents