A common question from buyers who are interested especially Bank-Owned/REO homes often ask "When putting an offer on a Bank Owned Home, do I have to offer more than the asking price?"
Chances are a bank-owned home, foreclosure, or REO, which stands for real estate owned property are listed at current fair market value but that doesn't being that you can't offer less. But how far below the list price should you offer on an REO?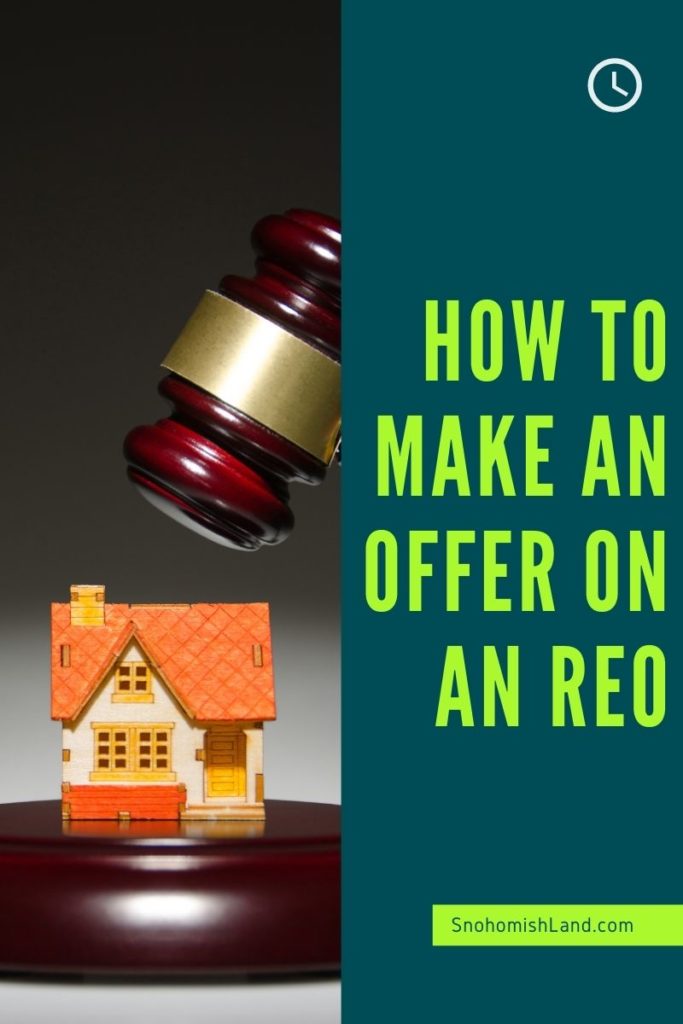 It's important to have a real estate agent that understands the current market values, the neighborhood market, and what's an appropriate amount to offer. There are a lot of different options and variables that come into play when making an offer on a bank-owned home. Typically listing brokers implied that buyers should wait until the listing has been reduced to within 10 to 12% of what you're willing to pay and then make an offer.
Most HUD homes may go for about 87% to 90% of the list price unless they have been sitting on the market for a couple of months. HUD would rather reduce the price and try to get more compensation. The last thing banks want is real estate on their books but they also can't give away the home either. Most of them are already losing money so the key is finding that sweet spot between the original list price and how far down there willing to go.
How to Make an Offer on an REO
Cash can also be a major factor. Many bank-owned home sellers are looking for cash offers, and that typically means you can offer less. It really comes down to negotiating. The first step is understanding what a bank-owned property really is. When a bank forecloses on a property they will try to sell at an auction. If the foreclosed property doesn't sell. It's referred to as an REO foreclosure or real estate owned.
Typically these homes are priced below market value so that they can sell quickly. Investors and even non-oven investors alike will view this as a real estate deal. You may need to put in some sweat equity and refurbish part of the property, especially if it's already made its way to an REO foreclosure so it's important to factor in any repairs and labor costs before making an offer.
How the bank chooses an offer.
Typically, you will be the only one making an offer on a bank-owned home. If it's an attractive investment property price lower than any comparable property, you will typically have competition. The highest and best offer isn't always the one that banks choose but more often than not, this is what will interest the banks.
Banks will screen offers to find the offer that best meets their terms. Pretty rare for a mortgage lender to simply accept the first offer on a foreclosed property. There could be a lot of negotiation back and forth and the goal of the highest and best offer is to create a bidding war between interested buyers and investors.
Most banks will have an asset management company that handles all of the real estate transaction. The company will follow certain guidelines such as how long to wait before reducing the price of the property. Most property prices are set using comparable market analysis or a CMA. A bank-owned property will then be priced either at or below fair market value.
Each case is different so it's important to understand what you're buying, where you're buying, and from whom you're buying. I encourage all of my buyers, both first-time home buyers, repeat buyers, and investors to study the history of a particular bank-owned property. It's important to do our own CMA to make sure we're not overpaying for the home. As an expert in buying foreclosed properties, I could do the research necessary to find out how many offers are going up against and then help you factor in the cost of repairs.
Making an offer does take negotiation, experience, and a little bit of homework. If you're interested in buying an investment property, consider an REO or bank-owned property. For a list of bank-owned properties in Everett Washington or surrounding areas and cities in Snohomish County, contact my office at any time.
I'd love to help find the perfect home in Snohomish County for your needs and budget. Here are more tips!