In some communities, it has been going on for some time where the city will work together with housing companies to provide shelter for public workers that would be otherwise excluded from being able to afford the current market rent or housing prices. Places such as Teachers Village in Newark New Jersey are helping public employees to be able to find a roof for their heads.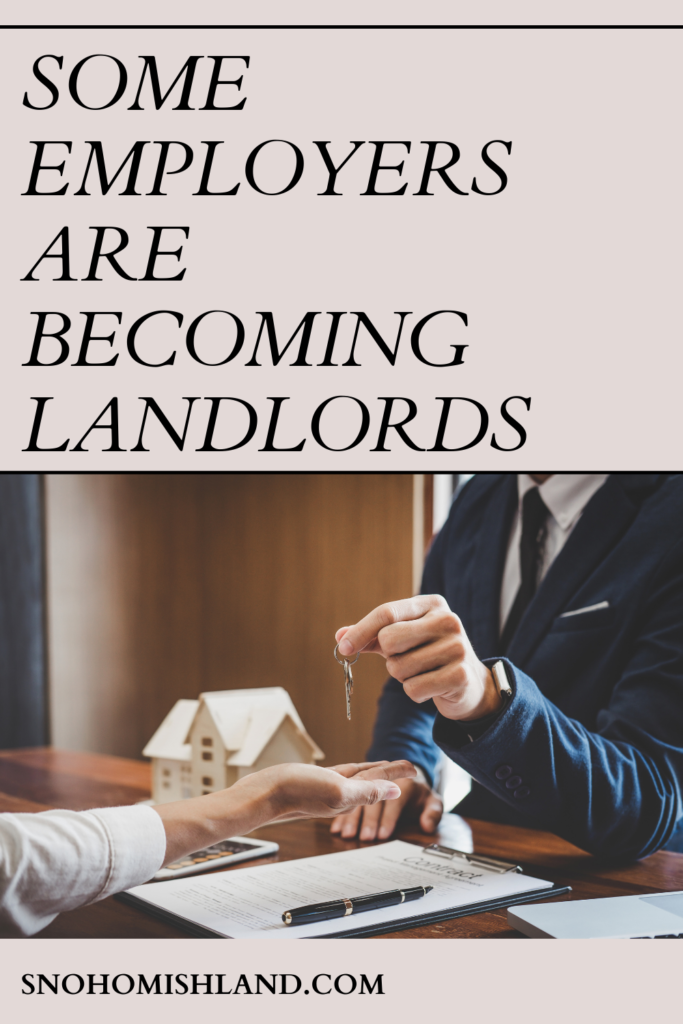 Currently, with the extremely low amount of homes for sale and the increasing cost of rent and home prices, a growing number of employers in higher priced tourist havens are building or buying apartments themselves to help house their employees.
Some Employers are Becoming Landlords to House Their Employees
This new way of providing housing could change the dynamic between employers and employees almost creating a sort of paternalistic relationship that was once part of old company towns that were dotted across America. This could be promising for workers needing to relocate and find affordable housing, it could also mean that if the employee loses their job they may lose their home as well.
Across the country, there has been a surge in real estate prices pushing many American workers to the outskirts of town or to more rural communities which is making their commute much longer to work.
The increase in home prices is not just pandemic driven as there were significant home price increases dating back into 2018 where numbers showed that less than 45% of homes are priced at $250,000 or below. Since 2018 this number has fallen from 45% to 25%. And information from the National Association of Realtors is showing that rents in popular tourist markets are quickly outpacing the local average wage for those that live and work in the area. Towns like Hilton Head Island and Orlando Florida have seen price increases of an astonishing 24% in just one year.
Towns in the Rocky Mountains where skiing is a famous destination have been providing housing for workers for several years because of the high-priced real estate. And the pandemic real estate boom has added several cities to this list or locations where employers are considering the same landlord strategies.
A car repair shop owner in Breckenridge Colorado built two apartments over his car repair garage in 2017 to help some of his potential employees find a place to live. The location is not the most ideal with the noise of tow trucks coming in late at night but it allows them a place to live while they save up some money to get into a more ideal location.
Part of what is driving prices up in destination small towns is the fact that many Americans were able and are still able to work remotely from wherever they wish causing many homebuyers to take advantage of super-low mortgage rates and head for the hills.
This quickly drove home prices as competition and demand came into desirable resort locations. Instead of sitting around and complaining about housing issues, many companies have decided to take on an employer landlord model across the country to help retain employees in jobs that are location specific.
For more information on purchasing a home in Snohomish County please contact us anytime.
More Local News and Advice
More Great Tips for Home Sellers Today