Over my decades in the real estate industry, I've dealt with a lot of homeowners, landowners, and business owners that of unknowingly sabotage their own sale. We want your sale to go through but I also want you to have no regrets on selling and the selling price as well, however, there are some ways that homeowners and business owners can sabotage themselves. Here are the 10 most common ways homeowners or business owners can sabotage their own real estate sale.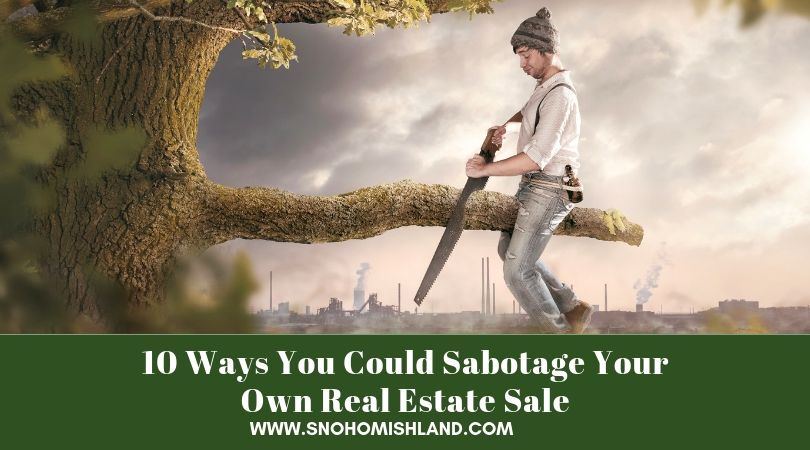 #1. Setting a firm price.
And this is not just a firm price but overpricing the property. You might think your home or business is worth a certain amount but if no one is going to pay for that or the comparable sales in the area don't match up, it's just going to sit on the market. I typically come to a listing presentation with research and comparable properties so you know what's selling and what's not.
#2. Selling the home as-is.
Refusing to put any money, staging, or elbow grease into the necessary repairs means that your home will probably sit on the market longer than you'd like or you'll eventually get a lowball offer. You have to put in a little bit of work in order to get the right buyer.
#3. Taking photos yourself.
Unless you are a professional photographer, leave the photographs to the pros. You want your home to look amazing but you also want the pictures to show how amazing it really is. I'm not saying deceive buyers, but great photos can definitely make or break a sale.
#4. Talking to every potential buyer and hanging around during showings.
It's true that you don't actually have to leave the property when a buyer tours it, but you make the buyer feel uncomfortable and they probably just want to leave. It's best to let the buyer browse the home or business by themselves or with their real estate agent. It will make them more comfortable and hopefully hang around.
#5. Hiding things from the buyers.
If there are issues with the property that you know about you must disclose them on the seller's disclosure form otherwise you could be up for liability. This even means the home edition that you did yourself without a permit. – Related: What happens if the Inspection Shows Unpermitted Work?
#6. Not paying attention to the landscaping and curb appeal.
The first impression is always the first impression so make that first impression amazing… Did I say first impression enough? Seriously though, your curb appeal has to be amazing because that's usually the first photo people will see.
#7. Assuming people will look past the "lived in" look.
People cannot look past your personal items, collections, or clutter. They can't see the bones beyond all of the "stuff". So, Declutter, clear out, pack up, and stage things appropriately.
#8. Being inflexible.
If you will only let buyers see your house two days a week between the hours of 10 AM and 1 PM, chances are you're not going to get many showings. You have to be flexible and not take negotiations personally when you get a lowball offer.
#9. Assuming everyone will love your pets.
Not only will you need to leave during a showing but your pets will as well in addition to all of their stuff. Remove cat litter boxes, dog toys, and any other signs of a pet during showings. People might be allergic or that might be so distracted by the pet that they won't look at the house itself.
#10. Ignoring the neighbors.
Try to remain on good terms with your neighbors during the home selling process. The last thing you want is for a disgruntled neighbor to pull some prank or completely turn off your buyers. It can be difficult to sell a house next to noisy neighbors, dogs barking, or tons of junk cars in the driveway, but the better you are to your neighbors, the more likely they might be to clean up a little bit during showings.
Ready to list and sell your Snohomish County property or business? Give me a call today for a free listing consultation.