There's something quite special about smaller cities. Whether you're traveling to Snohomish for a weekend or you're staying a bit longer, it won't take you long to fall in love with this place. Snohomish County is located on Puget Sound, between Skagit County to the north and King County to the south.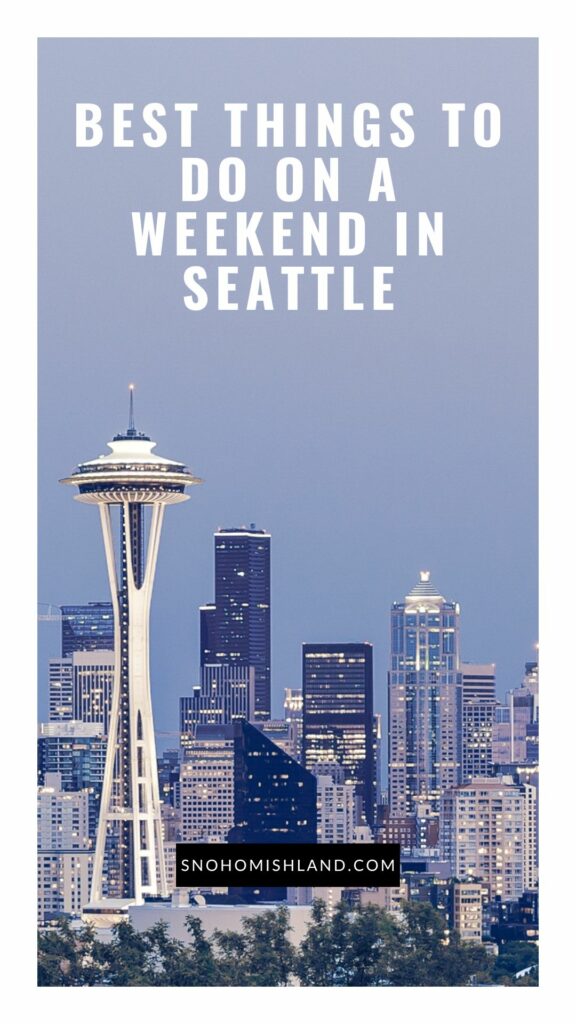 Covering 2,090 square miles, it is the 13th largest county in total land area in Washington. Snohomish County's varied topography ranges from saltwater beaches, rolling hills and rich river bottom farmlands in the west to dense forest and alpine wilderness in the mountainous east. With so many thrilling things to do and interesting sights to see, you might never want to go home!
HOWEVER – when you want to make it a fun weekend – head into Seattle! Here are some great things to do in Seattle on a weekend.
Street performers and vendors vie for attention on the pleasantly busy cobblestone streets of Pike Place Market. It's home to some 200 stalls and shops, some of which have been family-operated for generations. Amble among the wide aisles in the main arcade taking in the cornucopia of sounds, smells and sights. Sample seasonal fruits, smell the fresh bouquets of flowers, and admire handmade jewelry and art.
Space Needle
Seattle's iconic Space Needle rises 605 feet, like a beacon towering over the city. Erected in 1962, this unique building resembles a futuristic flying saucer set on irregular legs
Seattle Waterfront
Seattle's western border ends at the waterfront where the views across Puget Sound to islands and mountains are enhanced by elegant yachts, ships, cruise boats and ferries. Walk along the 2-mile (3-kilometer) stretch and browse quaint shops, explore the public spaces and piers, and enjoy the smells of the ocean air and freshly cooked seafood from the dozens of restaurants along the piers.
University of Washington
With its libraries, fountain and a campus routinely described as one of America's most beautiful, the University of Washington is an urban oasis. Tour this 1861 institution, set on 634 acres a few miles north of downtown Seattle.
Lumen Field
When the Seattle Seahawks play a home game, Lumen Field fills with about 70,000 fans. Noise from supportive cheering in the stadium is so loud that the enthusiastic fans are often referred to as the "12th man" on the Seahawks roster, providing important inspiration.
Seattle Center
Seattle's famous cultural and entertainment precinct is a must for any visitor to the city. The Seattle Center is home to many local major sporting teams, and some of the key performing arts institutions are also based within the large complex. Throw in some of Seattle's major cultural institutions, a range of upscale restaurants and bars and a choreographed water show, and you'll see why its easy to keep coming back to the Seattle Center.
For more information on Snohomish county and its local real estate, contact us!
More on Snohomish:
Holiday Markets Where You Can Shop Small and Local in Snohomish County
Snohomish County Has THE BEST Pumpkin Patches
Walsh Hills A New Subdivision is Coming to Snohomish
The Largest Community Garden in Washington is in Snohomish County
What to Know About Flipping a House in Snohomish County
What to know about relocating to Snohomish County