This winter, a new outdoor ice rink is planned to come to the Port of Everett during the holiday season. The rink is scheduled to be open from November 22 through January 2022. It is advised that if you would like to experience this new fun winter feature at the Port of Everett to sign up early.
The Port of Everett has announced a new multi-year partnership with the company Blue Line Sports and Entertainment that will bring an outdoor community ice rink to Waterfront Place during the winter/holiday season.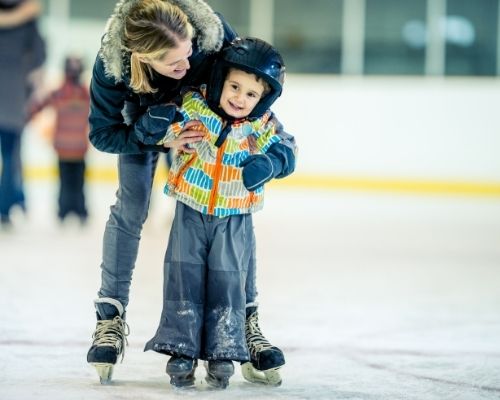 The rink will be known as Pacific Ice located at the Port Pacific Rim Plaza in Fisherman's Harbor, which is just in front of Hotel Indigo Jetty Bar and Grill and very close to the brand-new Grand Ave., Park pedestrian bridge. The rink will be a family-friendly venue and will run daily from November 27, 2021 through January 31 of 2022. This winter skating venue will offer public skate sessions as well as skating lessons, birthday parties, and some special events that will be announced soon.
Pacific Ice will offer a real ice rink that is open air, yet still covered so it can be enjoyed on rainy days and provide plenty of safe ventilation. The rink will overlook the sights of the Port of Everett Marina and be decorated with holiday lights, play holiday music, and have fire pits to relax by as well as some concessions to bring a whimsical and fun holiday atmosphere to downtown Everett.
Bringing in this ice rink fits perfectly with the revitalization efforts coming into the waterfront making it a popular and must stop destination in Everett. New energy is coming into the Everett waterfront with new housing, restaurants, retail space, coffee cafés, and more. Those responsible for development at the port have been focused on expanding winter offerings to keep business booming year-round at the waterfront.
There will be other fun holiday and winter festivities at the waterfront including a 35-foot lighted frozen fountain tree, the return of Holiday Drive-in movies, and an additional lighted boat parade with more dates than previous years.
Blue Line Sports, that will be running the ice rink, is currently selecting concessionaires as well as looking for high visibility sponsorship opportunities to help enhance this winter community program. It is a great way for local area businesses to support the community as well as advertise their business to the local community.
Important information for the Pacific Rim Plaza Ice Rink
Hours of operation
The rink will be open Monday through Friday from 3 PM to 10 PM and on Saturday and Sunday from 10 AM to 11 PM.
Special holiday hours
On Christmas Eve through January 2 the rink will be open every day from 10 AM to 11 PM
Tickets
Adult admission is $15 plus a $1.50 processing fee
Child admission is $12 plus a $1.50 processing fee
Children 15 and under must be accompanied by an adult 18 years or older and all tickets must be purchased online. All ticket sales are final, no exchanges will be given unless the rink is closed to inclement weather conditions
The price of skate rentals is included in the ticket fee and tickets can be purchased online at pacificice.com
This will be a fun community event coming to the Everett waterfront this year. The best way to ensure you will be able to take advantage of this new winter community event is to purchase your tickets online as soon as possible.
For more information on living in Everett, including Everett area real estate, and Snohomish County real estate, please contact us anytime.