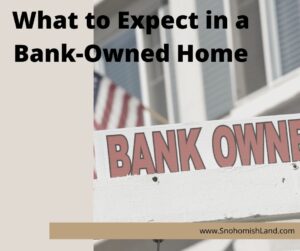 As a real estate specialist in the Snohomish County area, I deal with dozens of short sales, bank-owned, and foreclosed homes on a monthly basis. Whether I'm listing them or helping them sell, knowing the market, the buyers, the sellers, and the condition of the majority of homes in the area can all help you make an informed decision on whether or not buying a short sale or foreclosure is the right move for you.
Short Sale Vs. Bank-Owned
A short sale is a little bit different than a bank-owned home. A short sale means the homeowner or borrower has contacted the lender and let them know they can no longer make the mortgage payment. The bank, in turn, has relieved the homeowner of mortgage payments and taken over the responsibility of selling the home to cover the debt. The homeowners may or may not still be in the home but in many cases, the home condition is much more acceptable and possibly move-in ready over a foreclosure or bank-owned.
A bank-owned home is also called a foreclosure or an REO, or distressed home. In this case, the previous homeowner or borrower has simply walked away from payments and homeownership responsibilities. At this point, after eviction and several notifications, the bank has no choice but to confiscate the home and try to resell it to recoup any of the losses on the property.
In the case of a foreclosure, the condition of the home can vary widely. You need to be prepared as to what to expect in case you find a property in much need of repair. You may find a home that has had the flooring, appliances, and even cabinetry removed. There may be quite a bit of damage to the home internally and externally.
You'll need to determine if you're ready to put in the time and money necessary to make the home livable. In many cases though, all distressed property needs is a little bit of cosmetic repair. Paint, new flooring, and possibly new appliances are some of the most common repairs and care many foreclosed or bank-owned homes need.
As a short sale and foreclosure specialist in the Puget Sound real estate market, I want to prepare my buyers for all types of homes and properties that they may be interested in. I can help you determine if the price quoted is accurate for that neighborhood and for this market. We can negotiate on your behalf for repairs, specific conditions, and prices to make sure you get the home you want at the price that fits your budget.
Call me today for more information on specific Snohomish County short sales, foreclosures, and bank-owned homes in the Puget Sound area.
Related: