It seems that we just got done with Thanksgiving and here we are in the throes of December already running lightning speed towards Christmas.
If you think that December is a bad time to buy a house, some of these facts might surprise you. While the majority of people are not thinking about buying or selling real estate this month, this is actually to your advantage if you do need to sell or buy. If you're thinking about buying, now is one of the perfect times to buy and here's why.
Here are 5 Benefits to Buying a Home in December
#1. Minimal competition.
Everyone knows that in spring and summer the competition for buying real estate is ridiculous. You may have people offering multiple bids, escalation clauses, and far over the asking amount just to get the house. Well, in the throes of late fall to early winter you have to worry about that at all. There's pretty much no competition. If people don't have to buy or sell then there gathered around the Christmas tree and preparing for family, not worried about getting the best deal on the next house.
#2. Tax benefits.
If you're looking for some last-minute end-of-the-year tax deductions, a home purchase can help you deduct certain costs from your 2019 tax return. These can include mortgage interest, loan points, and even property tax. Also, mortgage interest costs tend to be high in the early years of a loan so this could be a great last-minute tax break.
#3. Motivated sellers.
I don't really want to use the word "desperate" but motivated sellers are really an understatement. Sellers want to get the home sold before the end of the year and many people may be forced to sell in December for several reasons such as a death in the family, financial pressure, or job relocations.
#4. You get a better look at the logistics of the house.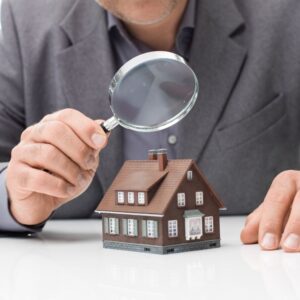 Seeing a home in the winter may be looking at the property at its very worse. You may not have beautiful flowers, trees all in bloom, or perfect weather but that's actually a good thing. You can take a look and see how well the home is insulated and whether you feel cold drafts around the windows and doors. See if the furnace or heat pump is working correctly and when you inspect the home, your home inspector will get a good look at the home while it's under the stress of lower temperatures, potential wins, and even snow.
Related: Inspector Tips on Common Fixes to Make Before you Move in
#5. Mortgage rates are a little bit lower.
A lot of lenders are offering pretty good deals this time of year just because there's not a lot of competition. They're vying for your business so let them know your shopping around so that you get the very best deal from your mortgage advisor or loan officer.
Pretty much the only downside is that you are moving during Christmas and the holidays and you may not have as much to choose from. However, sometimes the benefits will outweigh some of the negatives. If you're interested in looking at homes or need to buy or sell quickly this December contact my office at any time. Let's schedule a consultation, chat about your needs and future goals, and how we can get you out of the home or into a home before the end of the year. Listed with 5 Benefits to Buying a Home in December
More:
3 Reasons Life-Long Renters Decided to Buy
What to Know About the First Year of Homeownership